MonoSystems receives a Platinum Award from the 2018 Innovators Awards Program for Cabling Installation and Maintenance for Achievements in the Distribution and Routing Category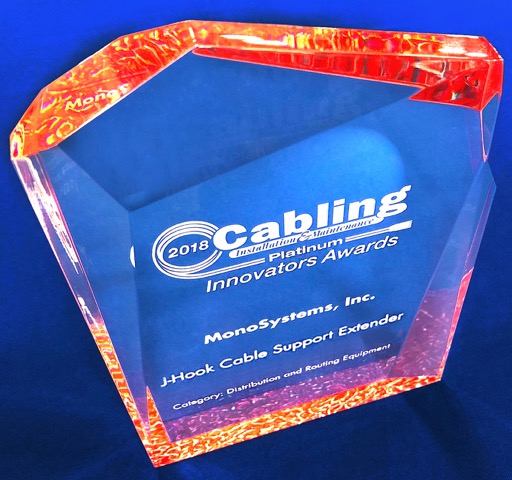 This is because the new J-shaped cable support extension bridges the gap between the J-hook and a cable tray.
RYE, NY (PRWEB)
October 24, 2018
MonoSystems, a US-based manufacturer of innovative cable management solutions for electrical engineers, contractors and integrators, today announced that its J-Hook Cable Support Extension has been honored by the program judges annual cable installation and maintenance award ceremony. The jury consisted of designers, designers, integrators and managers of cabling and communication systems with extensive professional experience.
MonoSystems received a Platinum level award. The J-hook cable support extension was designed to provide a 12 inch long support platform, instead of the 2 inch J-Hook support. The longer platform has been proven to reduce cable stress points, tension, sag and heat build-up – all are key factors in today's J-Hook installations.
"Indeed, the new J-hook Cable Support Extender bridges the gap between the J-hook and a cable tray," says Mark Ross, Director of Marketing for MonoSystems. "It offers the best of both worlds… lower material costs, less labor, installation flexibility and better support for high performance cables," added Ross.
Alan Bergstein, editor of Cabling Installation & Maintenance (cablinginstall.com) said: "This prestigious program allows Cabling Installation & Maintenance to recognize the most innovative products and leaders serving the structured cabling industry. Our 2018 winners are an outstanding example of companies making an impact in the industry. "
The Innovators Awards are judged on the basis of the following criteria:

Innovative

Value for user

Durability

Respond to a defined need

Collaboration

Impact
The 2018 winners of the Cabling Installation & Maintenance Innovators Awards are featured in the November issue of Cabling Installation & Maintenance magazine as well as at http://www.cablinginstall.com.
About wiring installation and maintenance

Published since 1993, Cabling Installation & Maintenance provides practical information to professionals responsible for the specification, design, installation and management of structured cabling systems in enterprises, data centers and campuses. Cabling Installation & Maintenance's magazine, website (cablinginstall.com), electronic newsletters and webcasts help cabling professionals improve day-to-day operations and enable strategic planning for the long-term optimal performance of their networks.
About MonoSystems, Inc.

MonoSystems is a United States-based manufacturer of cable management systems that has been in business for over 50 years. The company manufactures innovative solutions for electrical engineers, contractors and integrators. MonoSystems is the only manufacturer in North America to sell direct, not through the electrical distributor. Products include surface-mounted cable trays, cable trays, utility poles, J-hooks, power strips, bushings and more. Markets served include industry, commerce, education, research, healthcare, retail, finance and more.
Share the article on social media or by email: